PCBO Voorst zoekt leerkrachten voor de flexpool (0,4 – 1,0 FTE)
Wil jij jezelf verder ontwikkelen, ervaring opdoen als opstap naar een vaste baan in het onderwijs? Wil je ontdekken hoe het er aan toe gaat op verschillende scholen en welke school of onderwijsconcept het best bij jou past? Of wil je even ruimte creëren voor bezinning op jouw verdere loopbaan? Dan is werken in de flexpool iets voor jou!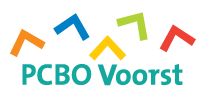 We kunnen op jou terugvallen als er binnen een van onze scholen een leerkracht uitvalt. Je gaat werken in onze invalpool: IJsselpool. Kijk ook op www.ijsselpool.nl. De IJsselpool verzorgt de vervanging van leerkrachten voor PCBO Voorst en vier andere schoolbesturen: Archipel, IJsselgraaf, ProCon en SKBG. Hieronder vallen in totaal 63 leuke en verschillende scholen, waar onderwijs gegeven wordt aan 10.000 unieke kinderen. 
Als invaller werk je voornamelijk op PCBO Voorst scholen. Je wordt bij voorkeur ingezet op onvoorziene kortdurende vervanging van ziekte en verlof.
Onze nieuwe collega:
is een enthousiaste leerkracht die breed inzetbaar is om zowel kortdurend als langdurig invalwerk te verrichten.
houdt van flexibiliteit en een dynamische werkomgeving.
is in het bezit van een PABO-diploma (bij voorkeur met een gymbevoegdheid).
heeft relevante werkervaring, opgedaan in de praktijk of tijdens stage.
beschikt over eigen vervoer.
Wij bieden:
een tijdelijk arbeidscontract bij PCBO Voorst tot het einde van het schooljaar met uitzicht op verlenging.
keuzevrijheid voor de werktijdomvang (minimaal 0,4 fte).
inschaling in schaal L10 conform de CAO-PO.
een reiskostenvergoeding van 0,28 cent per kilometer.
een stamschool toegewezen waar je naartoe gaat als je niet vervangt.
Is werken in de flexpool wat voor jou?
Stuur dan een motivatiebrief met CV naar Alinda Huistra, bestuurder PCBO Voorst.